Commercial Support Services – Antioch:
In February 2013 CSS hosted the Business and Networking Mixer for the Antioch Chamber of Commerce. "We had a good crowd of local business people that were eager to learn about the services CSS offers to local businesses", says Michele Ternes, Director of Community Relations at Contra Costa ARC. Also in attendance to tout CSS's services were Susan Hurl of Republic Services and Ervion Brown of Fresenius Medical, both of them current customers. They spoke to the group about their personal experience working with CSS and applauded the workers for high quality work and quick turn around times. "It's always a good idea to get the word out about CSS and our services, and we did that, but best of all is that we got a few new jobs for the workers", says Tracy Butler, Program Coordinator at CSS in Antioch.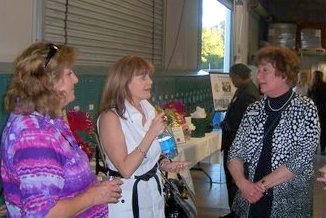 RC  & Susan of Republic Services network with Sandy of Ready Print.
Commercial Support Services – Concord:
In September 2013 CSS hosted a Business and Networking Mixer with the Concord Chamber of Commerce. Themed, "Let's Get Engaged", this mixer promised attendees the chance to "engage" in some great networking.   The group of business people in attendance had opportunities to hear a few of the CSS worker/participants discuss their work and answer any questions.  Most important though, is that they were fortunate to get a few new jobs as a result of hosting the mixer. Three of their current customers, Susan Hurl of Republic Services, Monica Youngheim of Meridrew Enterprises, and Ervion Brown of Fresenius Medical, graciously offered to speak to the group about their experience working with CSS; all of them giving the workers accolades and encouraging other business people to use CSS services.
                  Dave of CSS networks with Monica and Robert from Meridrew Enterprises